Montengarde Samhain 2017
The night is coming and The Mighty Baron Peter von Setzingen and The Kind Baroness Brangwayn Hesson The Everpresent invite the populace of Avacal to join us in celebrating our great harvest during Samhain. Experience the might of the Minotaur voice as the new Bardic Champion of Montengarde will be chosen.
Come and enjoy a feast you will never forget, the Taste of the Mediterranean, you will get to taste dishes from Italy, Greece, Spain and France in all their glory. The feast is prepared by the famous cooks in Avacal,Excellency Una Henriksdotter and Lady Asa Nordoster.
Other Activities include, Archery (offsite), Rapier, Heavy, Bardic Championship Tournament, A&S and most important, time with friends and family.
SCHEDULE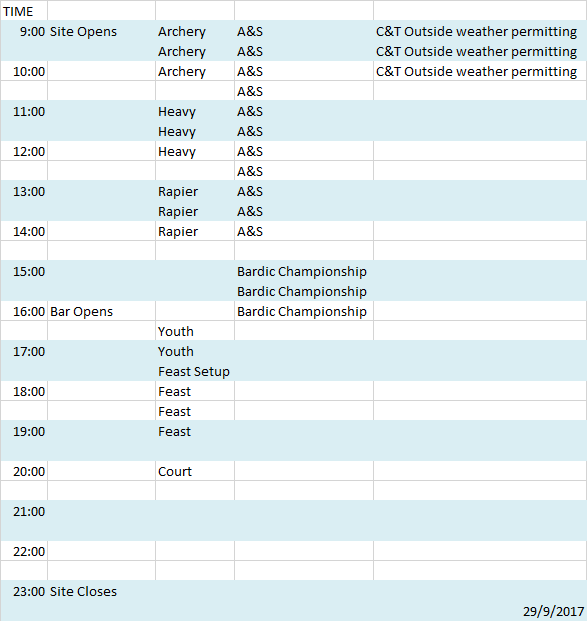 To register for classes, click here and add your name under the class of your choice!
This year's classes are:
Renaissance "Jam Session" with Monna Caterina
Beginner Soapstone Carving with HL Philippe de St-Denis
How to Be a Royal Retainer with HE Morrigan & Countess Karina
Persian Costuming with HE Morrigan
Introduction to Nålbinding with HL Drífa at lækjamoti
For more information, simply click on the class registration link above!
=================================================
BARDIC CHAMPIONSHIP TOURNAMENT
Warm Greetings from HL Bóthilðr Sigurðardóttir, Wild Rose of Montengarde, unto Their Excellencies, Peter and Brangwayn, and as well unto the Populace of the mighty Barony of Montengarde!
With Samhain fast approaching it is time to hold the tournament to choose a new Bardic Champion for Montengarde.
The requirements to vie for the Championship are as follows:
1. A letter of intent sent to Their Excellencies Montengarde (excellencies@montengarde.org) and to myself (kristinesaxberg1@hotmail.ca) or presented in person.
2. On the day of the event, at the prescribed time, perform 2 songs for the judges and assembled populace.
– One song (at least) is to be of period origin, presented with your best attempt at documentation. (Who? What? Where? When? and Why? are good things to cover)
– The second song can be an SCA song, something that you, or someone else has written that depicts life in the SCA in some fashion. Please provide a brief write up, consisting of who wrote the song, what song is the tune based on (if it is a filk), when and where the song was written, if you can find that information.
I look forward to seeing your performances!
In service,
HL Bóthilðr Sigurðardóttir, Wild Rose of Montengarde
---
Facebook Event Page CLICK HERE
---
Barony of Montengarde (Calgary, AB)
November 4, 2017
Abbeydale Community Hall
821 Abbeydale Dr NE, Calgary, AB, T2A-6N7
Site Opens: November 4, 9:00 Site closes: November 4, 23:00
NO OUTSIDE ALCOHOL IS ALLOWED, there is a bar on site. Anyone breaking this rule will be asked to leave the event.
---
Event Registration:
Adult Event Registration- $25
Adult Member Discount Event Registration- $20
Youth Registration(<18) – $0
Feast Fees:
Per Plate – $15, maximum 72 plates
A Taste of the Mediterranean
Antipasti Plate: prosciutto, dry salami, assorted olives, marinated artichoke hearts, bocconcini cheese drizzled in olive oil, and marinated fire roasted red bell peppers
Italian Wedding Soup: chicken broth with mini Italian meatballs (pork & beef), orzo pasta, kale and carrots sprinkled with Parmigiano-Reggiano cheese
Homemade bread and butter: homemade bread from Bothaiedr with plain and garlic butters
Pasta: Spinach rotini with alfredo sauce and Penne pasta with Bolognese sauce, sprinkled with Parmigiano-Reggiano and fresh cracked black pepper
Tiramisu: Italian style custard layered between espresso flavored, lady finger cookies
Greek Salad: Roma Tomatoes, Cucumber, Bell Peppers and Red
Onion in an olive oil/lemon juice dressing with optional feta cheese and Kalamata olives (on the side)
Chicken Souvlaki Skewers: Chicken breast meat, marinated in lemon juice and garlic, grilled to perfection!
Roasted Lemon Potatoes: Potato wedges, marinated in olive oil, lemon and garlic, roasted to achieve a nice crust on the outside, tender on the inside.
Baklava: Philo Pastry, Walnuts, and Honey baked together for this sinfully sweet but decadent dessert
Third Remove: Spain and France
Spanish Rice: browned rice cooked in chicken broth accompanied by garlic, onion and tomato
Spanish Salad: fennel, red onion, navel oranges and mint amidst a light citrus and yogurt dressing
Classic French Green Salad: Spinach, Bibb Lettuce, Romaine Lettuce drizzled in a fresh chive and tarragon dressing with brie cheese
Classic French Roast Beef: Beef roasted with root vegetables, served with its own au jus
Assorted French Macarons: Almond meringue cookies in an assortment of flavors with various fillings
---
Please make cheques payable to "SCA MONTENGARDE"
---
Event Stewards: HENRY OF BOHEMIA (HENRY JAKL), SCA@HOUSEMAJOR.COM
Feast Steward: UNA HENRIKSDOTTER (AMY CHRISTIANSEN-CROMACK, SCHMAIMZ@HOTMAIL.COM