Archery Practice
Montengarde is famous for its target archers in the Known World. We practice two times per week.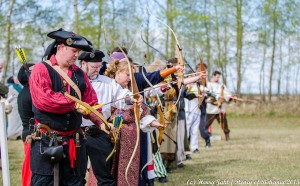 When: Tuesday and Friday evenings.
What: Friday evenings from 6:00 PM to 9:15 PM is open practice and there is normally socializing at a local pub or restaurant afterwards.
Tuesday evenings from 6:30 PM to 8:00 PM we focus on coaching and specific skills training such as distance, speed, and target analysis.
Where: Calgary Archery Centre (CAC)
4855 – 47th Street SE, Calgary
Cost: $12 per Archer per evening.
Fees are payable directly to the CAC and are discounted from the normal $14 public rate if you mention you are with the SCA.
Please Note: Unlike most venues that host SCA activities, we do not have exclusive use of this facility. It is a private business and the lane fee discount is provided to SCA Archers as a courtesy.
Please be courteous to the staff and non-SCA patrons in return. As this is a regular place of business, you can practice your archery skills here at any time that the CAC is open.
Contact: capt.archers@montengarde.org
---
Archers of Avacal Facebook Page