Montengarde Culinary Group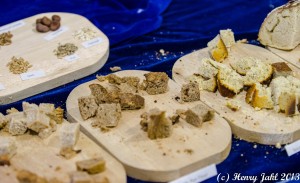 Our goal is to prepare, research and discuss all things pertaining to period (pre-17th century) food and drink. We are focused on creative, accurate and exciting dishes, and encourage palate-expanding experiences!

We meet once a month, with rotating "themes" (ie: desserts, medicinal food, appetizers, etc.) Occasionally, we prepare food for larger groups in the general Montengarde populace. Everyone with a love of food and drink and a willingness to try new and exciting flavors is welcome!

If you would like to come to one of our meetings and have a serious allergy, please let us know at least a week in advance so that we may either make adjustments or properly label our food.

Everyone is welcome! Check our Facebook page for news, discussion, meeting dates and themes.
When: Normally Third Monday evenings from 7:00 PM to 9:30 PM.
What: An opportunity to socialize over and discuss SCA appropriate foods.
Where: Location is at a personal residence in the SW. Please see the Montengarde Culinary Group Facebook page for updates.
Cost: None
Contact: arts-sciences@montengarde.org