WELCOME TO THE MIDDLE AGES
So you have watched Game of Thrones, Braveheart, Vikings, or The Tudors, and thought it was pretty awesome, Or you read the "Last Kingdom" or Arthurian legends and wanted to try to recreate those legends. Ever wanted to learn about history, calligraphy, cooking, sewing? Ever wanted to learn to shoot archery, ride horses, fight, sing? Ever wanted friends and family all around the world? Well you found us! We recreate the middle ages as they should have been.
Who are we?
WE ARE FIGHTERS
WE ARE POETS
WE ARE ARTISTS
WE ARE ARCHERS
WE ARE COOKS
WE ARE TEACHERS
WE ARE HISTORIANS
WE ARE FAMILY
The SCA is a practical history society, recreating the arts and skills of pre-17th century Europe. While dressed in clothing of the Middle Ages and Renaissance, you can experience tournaments, royal courts, feasts, and dancing. You also have the opportunity to learn and practice ancient arts and skills — calligraphy, cooking, armoring, metalworking, carpentry, and needlework (to name just a few) — within an all-ages social group. The SCA is a great place to make friends and learn transferable skills.
Visit us here: http://welcome.sca.org for more information about this wonderful world.
For Local information, please explore our site, our Facebook Page or contact our Chatelaine.
Glossary of terms: There are some unique words used in the SCA here are some of the more common ones you may encounter, SCA Jargon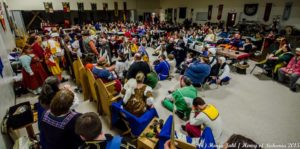 How can I get involved?
There is a whole lot to do in the SCA and there are many ways to spend your time. The best way to introduce yourself and have fun helping out. Helping out at gate, water bearing, or giving the officers assistance is always appreciated.
Another good way to get involved is to get creative, If you enjoy making things the Barony is always looking for handmade items to give out as awards or prizes, these can be as simple or complex as you like.
Above all have fun! if you have questions, or want to make suggestions feel free.
Hope to see you out.