Arts & Sciences Night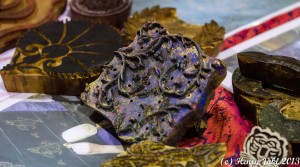 When: The last Monday of the month from 6:30 PM to 9:30 PM.
What: Work on your SCA projects and socialize with other like minds.
Where: Location currently at a personal residence in the NW. Please see the Montengarde Arts & Sciences Facebook page for updates.
Cost: None
Contact: arts-sciences@montengarde.org
Artisan Showcase – Master Ark
Master Ark has provided some words rather than using the standard interview format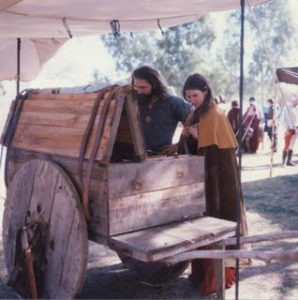 I am Master Ark of Ringholden. I am widely known as a jeweller, but in days of yore I was a bard of some renown. My first event was forty years ago in the Outlands which was a principality of Atenveldt at the time.
I was squire to Master Master Baron Sir Raymond the Quiet (the first triple peer in the Outlands). It took less than a year to determine that my actual skill as a heavy weapons fighter did not match my image of myself as a warrior. I sold my armour and looked for other ways to participate.
I adopted the persona of a Saxon merchant and trader when there were no merchants at events. At first this was frowned upon because people resented me using the SCA for monetary gain. (I was buying things at yard sales and flea markets and reselling them at cost to support my persona.) But I persisted.
I was introduced to a man outside the SCA who was doing bronze casting and he gave me some wax to make a piece of jewellery and said he would cast it for me. I still sell copies of that piece today! That was the beginning of my career as a Medieval jeweller.
I received my Award of Arms in ASXIV. Three years later I became the Arts and Science Champion of the Kingdom of Atenveldt with my jewellery, crafts, bardic, and cooking.
In ASXXI I became the first Arts and Science Champion of the new Kingdom of the Outlands. That was also the year I was named as a Companion of the Walker of the Way. This is a honour bestowed once each reign in the Outlands to the person who most exemplifies the ideals of the Society. It is the award that I am most proud of.
I was elevated to the Peerage of the Laurel in ASXXII. That was also the year I won my first defender title as Defender of Lonely Mountain, a title I would win three more times. I had taken up fencing ten years after giving up on heavy weapons and enjoyed it very much. However, my tenure as a fencer ended when schlagers replaced rapiers. I felt that the heavier blades put my hands at risk, and I make my living with my hands.
By this time I was attending events throughout the Known World and making my living as an SCA merchant. In ASXXV I was recognized as the Most Medieval Merchant at the Pennsic War.
In ASXXVII I became the King's Skald for King Olaf BJornnson of the Outlands and received the Cordon Royal from His hand for my bardic service to Him and His court.
In ASXXXV I moved to the Barony of Western Seas in the Kingdom of Caid. While still active in the SCA, my involvement waned until I moved to An Tir. I became active as a merchant again and twenty three years after my first Estrella War I was back for Estrella XXV. I was living in Avacal when it became a kingdom, making it the fourth Kingdom I have lived in.
I have taken one apprentice over the years, Mistress Rosatrude called Shrew. She was laureled less than 24 hours after she became my apprentice. I doubt I can improve on that and I've never tried.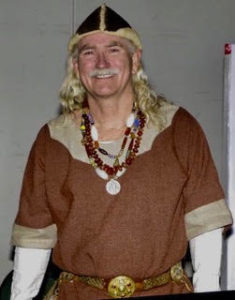 I have watched the SCA change over forty years. I have watched children grow up and become kings. I have had a lot of fun and I've grown and evolved as a person. I have mourned the deaths of friends and I have grown old in the Society. The young warrior is now an aging merchant. My hands are still making my old designs and creating new pieces, using the same techniques that the Saxons used in the tenth century – the time and place that Ark calls home.
Last year I designed and created pieces for the Glenbow Museum gift shop based on shields in their collection. I am currently working on a series of belt buckles.
In Service to the Dream, I remain
Ark of Ringholden
Artisan Showcase – Morrigan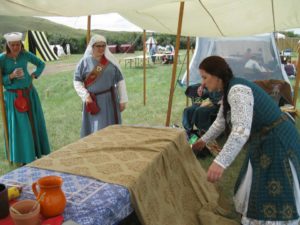 Name
Morrigan, also known as Bushra al Jaserii bint el Nahr
A&S Interests
Designing period textile patterns using paint, ink and dye. She blockprints high-quality textiles with period and modern ink, paints textiles for clothing, designs medieval patterns for clothing use, paints banners, paints silk, and uses resist prints with natural dyes.
A&S Experience
Perfecting her skill since 2005, she still wears her very first piece of printed clothing.
Motivation
Unable to find suitable textile motifs for her persona, she began researching the usage of painted and printed textile with emphasis on mid- and near-East cultural usage on fabric and clothing as found on extant kaftans, wall hangings, tiraz bands and talismanic shirts.
Projects in Progress
She would like to print some newer floor cloths for the Baronial pavilion and is looking for volunteers to assist, if there is interest.
Future Projects
Experimentation with stencils, size and gilded leaf burnished into silk to recreate the look of a medieval kaftan in the Topkapi palace.
Student/Teacher Desired
Hopes to to co-teach a class with Countess Brigit of Mercia, Kingdom of Atlantia one day (the founder of the FB group Printed Textiles in the Middle Ages, a study group of SCAdians with over 1600 members – Morrigan co-admins that group.) Morrigan hopes to one day be able to make it to one of the major Known World events she has been asked to instruct at, but hasn't yet been able to make one!