Their Excellencies Montengarde
His Lordship Peter von Setzingen and Her Ladyship Brangwayn Hesson The Everpresent 10th Baron and Baroness of Montengarde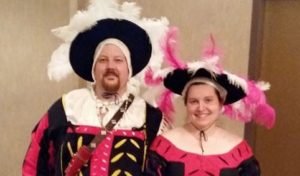 Warmest Greetings to our beloved Barony of Montengarde!
We welcome you to our modern Middle Ages, and hope that you will find your place among us. Together we hold events that inspire greatness and celebrate exceptional skills, chivalry, and honor.
Our incredibly talented and generous people will be able to inspire and teach you in all manner of medieval life. We have weekly meetings for heavy armored and rapier combatants, archers, arts and sciences including our bardic and culinary groups. Monthly Council meetings keep our Barony running smoothly, all are welcome to these meetings, as are all welcome to join us in our monthly Tavern nights where we dance, and make merry.
We hold several large-scale events throughout the year, where we invite the people of Avacal to join us in combat and celebration of our warriors and artisans.
So charge your glasses, gather round the fire, and join us in recreating the past, we look forward to our adventures with you.
Peter and Brangwayn,
Baron and Baroness Montengarde
Email: excellencies@montengarde.org